Barcelona , Chelsea Clash Today
FC Barcelona's third preseason friendly takes them to the FedEx Field in Washington DC and a game with Chelsea on Tuesday 28 July, although in many parts of the world it will already be Wednesday by the time the game kicks off.
The International Champions Cup brings together the champions of England and Spain and here's a guide to when and where it is being televised around the world. If the game is not available in your country or region then there's no need to worry. All of our social networks will keep you fully updated, and you also have the options of Radio Barça and Chelsea TV Online.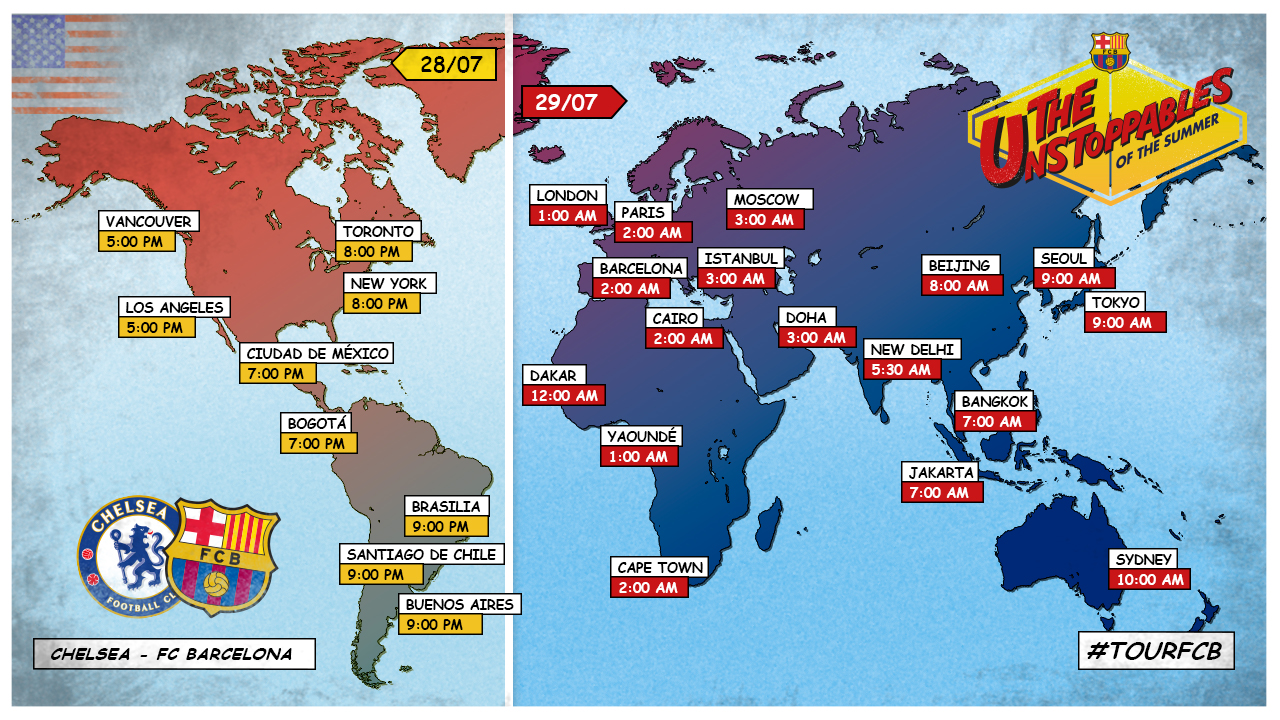 Tuesday, 28 July
Canada – Vancouver (5.00 PM) / Toronto (8.00 PM)
FC Barcelona: @fcbarcelona & www.fcbarcelona.com
TSN 5, TSN 4, TSN 3, TSN 1
United States – Los Angeles (5.00 PM) / New York (8.00 PM)
FC Barcelona: @fcbarcelona & www.fcbarcelona.com
Fox Sports GO, WATCH ESPN, Fox Sports 2 USA, Fox Soccer 2Go USA, ESPN Deportes TV, ESPN Deportes Radio
Brazil – Brasília (9.00 PM)
FC Barcelona: @fcbarcelona_br & www.fcbarcelona.com.br
Esporte Interativo
Latin America – Santiago (9.00 PM) / Buenos Aires (9.00 PM)
FC Barcelona: @fcbarcelona & www.fcbarcelona.com
DIRECTV Sports
Wednesday, 29 July
United Kingdom – 1.00 AM
FC Barcelona: @fcbarcelona & www.fcbarcelona.com
Sky Go UK, Sky Go Extra, Now TV, Sky Sports 1/HD UK
Barcelona – 2.00 AM (CET)
FCBarcelona: www.fcbarcelona.cat, www.fcbarcelona.es, @fcbarcelona_cat & @fcbarcelona_es
TV3, Canal+Liga
Zimbabwe – Harare (2.00 AM)
FC Barcelona: @fcbarcelona & www.fcbarcelona.com
StarTimes Sports Focus
Credit to barcelona.com